Working for our community, it's why we exist
We're proud of the services we provide. But we're far prouder still of the positive impact we have on the broader South Canterbury community. Wherever possible, we make it our mission to give back, in whatever way our abilities can be applied best. And we know too that this has other positive spinoffs. By helping to set that example to other companies, often even competitors of ours, we are able inspire others to give back too. Ultimately, it's the community of South Canterbury that benefits from this, and that's something we feel we can all rejoice in.
Partner with us on your projects and you too can be part of that win-win community development.
Check out the different organisations that we support, many of which our team and their families have had a personal connection or experience with.
Family Works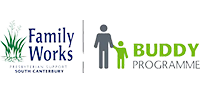 Family Works
Buddy Mentoring Programme
Family works strives to build strong families by offering a range of support services through Presbyterian Support Organisations across New Zealand. Counselling and therapy, children's and parenting programmes, restorative justice and mentoring just to name a few. In addition, they provide food parcels to families in need through the Family Works Food Bank and work in conjunction with Refuge Settlement Services to help refugees settle and integrate into South Canterbury.
The Buddy Mentoring Programme connects primary aged children that could use the positive influence of a role model and/or additional support. The aim is to help these children develop confidence and possibly new skills or hobbies or even friends under the supportive wing and guidance of a fully vetted and trained Big Buddy.
St John
Cancer Society
Drama League
Fear NZ
Heart Kids
Pound Paws
Street Cats
Youth Enterprise
SC Rugby